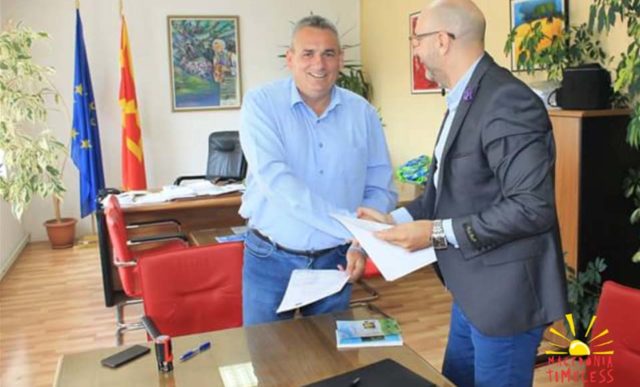 The Agency for Promotion and Support of Tourism (APST) of the Republic of Macedonia and the Municipality of Debarca signed a Memorandum of Cooperation today. It was signed by the Director of the Agency for Tourism, Ljupco Janevski, and Zoran Nogacheski, Mayor of the Municipality of Debarca.
Driven by the need for mutual cooperation to actively enhance and promote tourism, the parties signing the Memorandum of Cooperation, agreed on the creation of tourism products, based on the culture, tradition, history and natural treasures. In this context, the activities were aimed at creating and enriching the tourism content and promotion of the overall tourism potentials and tourist offer of the region that the Municipality of Debarca covers.
Both institutions, as early as from September will begin organizing forums to educate the population, aimed at presenting the opportunities offered by the region for it to grow into an eco tourism destination.
The Ohrid Airport St. Apostol Pavle is also located in the Municipality of Debarca, which certainly is an advantage for greater visits of tourists coming to the region.
The most important and the most massive cultural event is the International Art Colony "Debarca" in the village of Belchishta. It has actively existed for 24 years and regularly takes place during the summer period from 24 June to 4 July. From 12 to 15 participants who create their works exclusively in the territory of Debarca and beyond participate in the colony. The colony has so far been attended by 185 artists from Macedonia, Serbia, Croatia, Slovenia, Bulgaria, Greece, Poland, the USA, Canada, Germany, Malaysia, Russia, Uzbekistan, Ukraine, Cyprus and other countries. The great interest for participants from around the world speaks for the reputation of the colony, as well as the attendance at exhibitions.
In terms of tourist potentials, within the area of the Municipality of Debarca there are several archaeological sites, including the archaeological site Trebeniste Necropolis, Gorenci, 8-4 century BC (golden funeral masks were discovered) and the archaeological site Trebeniste Fortress, Trebenista antique period and so on. From the cultural and historical heritage, on the territory of the Municipality of Debarca there are churches and monasteries, among which the monastery "All Saints" (Site Svetii) in the village of Lesani – dating back to 1452 and the monastery "St. John" (Sveti Jovan) in the village of Slatino (dating from the 16th century), as well as several churches, are more typical.